Summaron-M 28/5.6
A re-incarnation of history
Magnus L Andersson
Our new Leica Summaron 28 mm f/5.6 is only our third Leica lens, and then there is one from Zeiss, in our rangefinder setup. This is a lens with reviews from being a joke by its poor performance to being viewed as the best one for street photography in the repertoire of Leica.
We're just amateurs, and definitely not Leica historians, but will in a number of images try to share my views of this unique and extremely small lens,
Leica describes the Leica Summaron-M 28 mm f/5.6 as being "modeled on a screw mount lens produced at the Leitz factory in Wetzlar from 1955 to 1963. Its unmistakable signature is almost impossible to reproduce by digital means and makes the lens a true classic that is now reborn in a revised edition, with exactly the same optical properties. The fact that this is no simple reconstruction is obvious at first sight: the design of the Summaron-M has been refined down to the essentials, without losing any of the character of its legendary ancestor"
A newborn and revised original
If you like our work, you are more than welcome to follow us at Instagram or have a look at Fotosidan (Swedish site for photographers) or LFI (international site for mainly images captured by Leica equipment). You are also welcome to contact us at info@anderssoneklund.se for questions about our work, and to share links to this post.
Only for rich and famous, and me
Leica is to me most probably the brand with the largest number of ill-informed opinions. Whenever there is any news about Leica at one of the major Swedish photography sites, in a few minutes there are tens of comments referring to a brand for "lawyers and doctors" and being far behind the state-of-the-art of mirrorless AI-driven 8K camera.
I'm not rich and don't change gear whenever there is a new version on the market, and I have had many challenges with Leica during my 8 years relationship with the company. For instance, my Leica M Monochrom spent in total almost a year in Germany, or in transition, due to a corroding sensor and my analog Leica M-A was delivered with a faulty lever mechanism. In spite of this, when I hold a camera or lens from Leica in my hand I always get so impressed. It feels quality in a way I don't find with Japanese gear. Thereby, I don't want to claim that Leica is of better quality, but that their cameras and lenses feel better. Moreover, no doubt the company wants to focus on quality as exemplified when I sent my camera with some nice patina for corrosion check and it returned with a completely new top section free of charge. Wonder if the same thing happens if someone sents an old M3?
I could write a lot about Leica as a company and how it's to deal with them, but in this post, I will introduce my latest addition to my setup by the Leica Summaron-M 28 mm f/5.6 lens.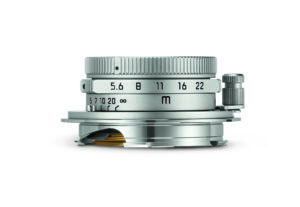 Why spend €2.5K on an old lens?
I began by Leica journey with the Leica M Monochrom in 2012 together with a Summilux 35 mm f/1.4 ASPH lens. A great pair that has delivered very well over the years. Then I added the not that well-known Macro-Elmar 90 mm f/4 to broaden the use of the camera.
However, my years with the M Monochom have been "rusty" and at one point in time, I was so upset that I bought a completely analog Leica M-A together with a Zeiss C Sonnar T* 1,5/50 ZM. The choice of the Zeiss lens was partly due to its characteristics with "a beautiful 'bokeh' that reflects the ambiance of the golden age of rangefinder photography" (Zeiss), hence the clinical look of the Summilux had begun to bore me.
Fast forward to March 2019 when I realized yet again that the M Monochrom suffered from corrosion and had to be sent to Germany for a sensor replacement at a hefty cost of €1.6K or trading it for another camera. So, I had to make up my mind regarding if I wanted to stick with an 18MP CCD camera from 2012 in pure black and white or move to color and other novelties. Deep in my heart, I felt that it was not really forward I wanted to move, but backward and the ultimate would be a digital b/w Leica 0. Hence, I decided to stick with Henri (nickname for the M Monochrom).
I also noticed that in 2016 Leica had introduced a modernized version of the classical Summaron 28 mm f/5.6 produced between 1955 and 1963 (details). The original has been described by the Leica expert Erwin Putz as "compact, elegant and with high performance" and to be "truly representative of the Leitz lens approach in the heyday of the screw mount Leica camera". He has continued to describe the reborn version of the original as
[a]t f/5.6 the lens delivers a medium contrast image with high resolving power that lacks the bite and crispness of the other two lenses in this comparison [Elmarit-M 2.8/28 mm ASPH,Summilux-M 1.4/28 mm]. The fine textural detail and the outlines of medium sized shapes are recorded with a slight softness that the other lenses lack. At distances between 1 and 3 meters the lens exhibits a very fine balance between definition and overall contrast. There is quite visible vignetting and the edges are very soft with blurred subject outlines. At f/8 the overall definition increases a bit, but not by much. The recording quality is of a high order over a large portion of the image […]. The outer zones however are quite soft and record only the major subject outlines. The edges of the image are washed out even at this relatively small aperture: this behaviour is typical for older wide angle designs. At f/11 there are still traces of vignetting and the edges are still fuzzy. Between f/8 and f/11 the optimum of this type of lens has been reached.
In other words, this is a lens that will never result in crisp and clinical shots, or even perform at all in poor light conditions. Hence, a very small lens to deliver a unique historical feeling and no need for "(photo)shoping".
The first shot
This image is the first one taken with my "renovated" M Monochrom and the Summaron-M 28 mm f/5.6. The only post-processing was that it was developed as an emulated Ilford Delta 100 negative, hence corresponding to the default LR import settings for Leica M Monochrom. Moreover, the left-hand part of the image is without any lens corrections and the right one with automatic corrections.
According to the EXIF it is taken at 1/3000 s and f/6.7 with ISO 320, but something is weird because I'm pretty sure it was at f/5.6 and the next aperture is actually f/8. Hence, something is not accurate enough in the EXIF or its reading, so let's stick to that the photo was shot at one of the larger apertures.
It's pretty clear there is, as known, vignetting and the lens correction does not deal with. Still, I like it, since it makes the image more interesting in comparison to one taken with the Summilux-M 35/1.4 ASPH.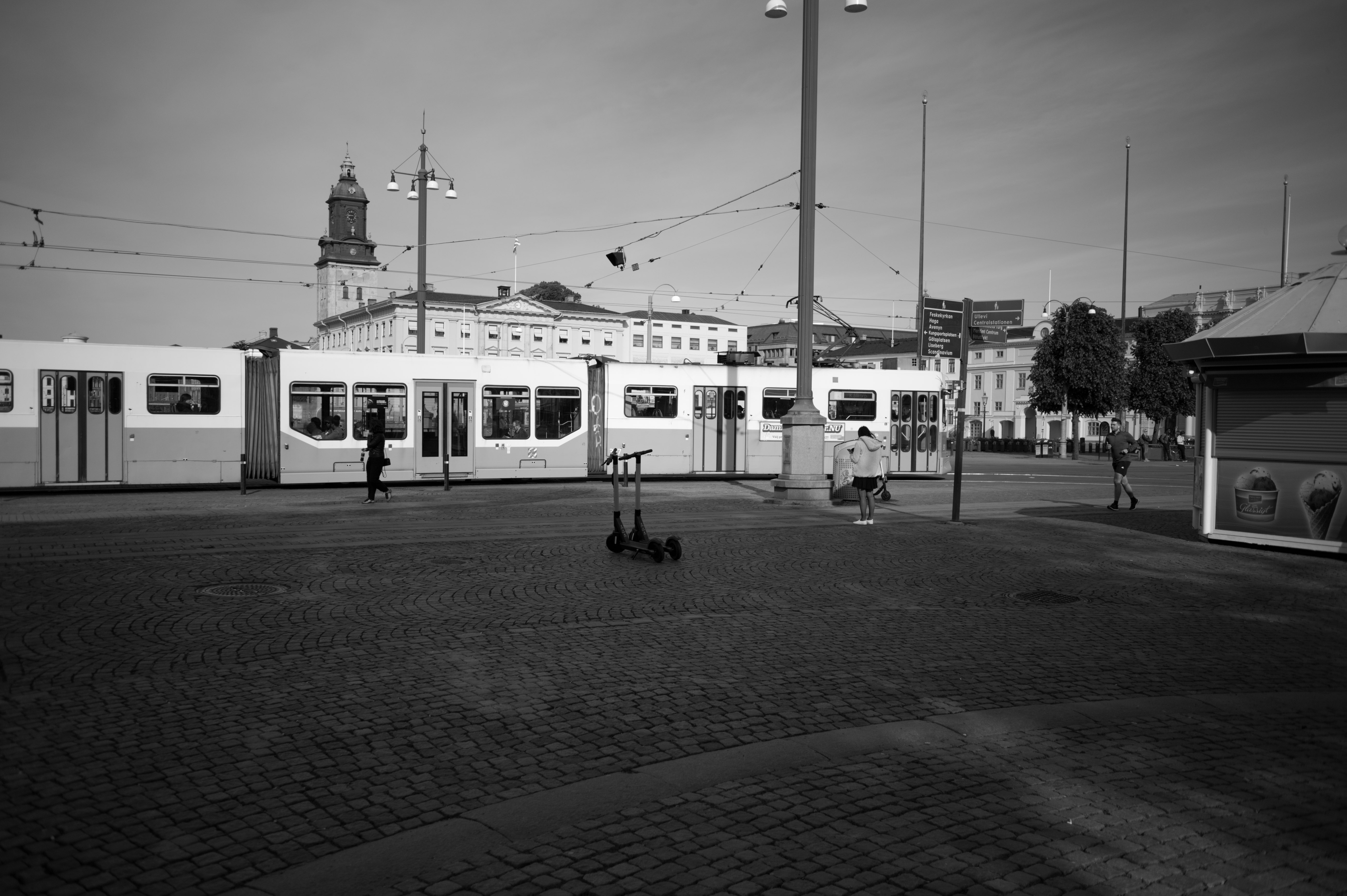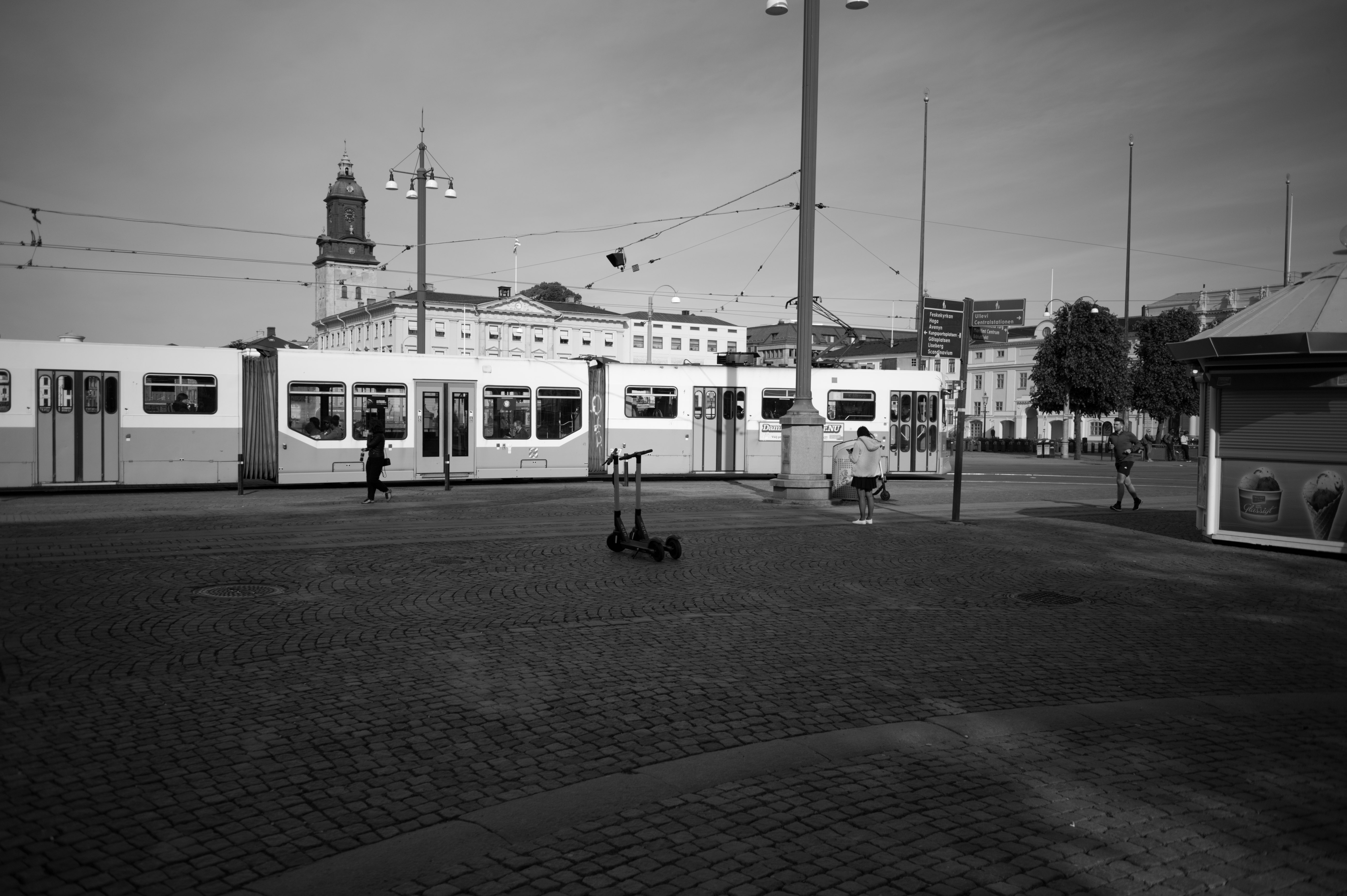 Without lens correction [left] vs With lens correction [right].
First impression
This is really a small compact lens with a layout never used before. However, for the intended use of zone focusing this should not be any problem. Considering the images it's hard to judge from five photos taken during 10 minutes at a street corner in Gothenburg, so the future will tell if this will be a favorite or one for the cupboard.
Gear
Camera: Leica M Monochrom (M9) (Leica)
Lens: Leica Summaron-M 28 mm f/5.6 (Leica)
Filter:  No
Medium: Memory Card Panasonic SDHC 16GB Gold Pro (Panasonic)
Flash: 
Scanner: No
Comments
There's something weird with the EXIF or its reading since I'm pretty sure the shot was taken at f/5.6 and not f/6.7. Moreover, the latter aperture does not even exist on this lens and this "error" is due to the camera's inability to register the used lens aperture.
Settings
Shutter speed:  sec
Focal length: mm
Aperture: f/
Exposure bias: EV 0
ISO rating: 
Background
This photo was taken by Magnus L Andersson in (/, ) using a Leica M Monochrom (M9) with a Leica Summaron-M 28 mm f/5.6.
Processing
Processing by Magnus L Andersson
Comments
The only processing of this image is basic lens corrections and being an Ilford Delta 100 (Affinity) emulation, hence similar to a default Lightroom import with the Adobe Monochrome profile.
Feedback
If you like our work, you are more than welcome to follow us at Instagram or have a look at Fotosidan (Swedish site for photographers) or LFI (international site for mainly images captured by Leica equipment). You are also welcome to contact us at info@anderssoneklund.se for questions about our work, and to share links to this post.
Media coverage
This image can only be found at this site.